• Career Tips
• Resume Tips
• Interview Tips
• Cover Letters
• Resignation
Letters
• Career Abroad
• Do's and Don'ts
• Visa News
• Country Mosaic
• City Mosaic

• Startup Guide

• Indian Talent

• Ask Murali

• Archives - All Areas

Search


Resume Tips
Resume Writing Tips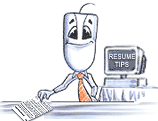 • A resume is as good as an advertisement for oneself. Ensure that you market yourself well
• It's your resume, so make it as professional as you can
• The sole purpose of your resume is to ensure that you are short-listed for that much-wanted interview
• It is advisable to hand over your resume directly to the person who will be doing the hiring
• Avoid making a flashy resume. Keep it simple and precise.
• Avoid using coloured envelopes or papers
• Get your resume proof-read! There should be NO mistakes! It reflects carelessness
• There should be no misspelled words or incorrect grammar.
• Print your resume on quality bond paper. Do not use dot matrix, it is not only outdated, but does not appeal to read either. Instead, use a laser print.
• Use clean paper devoid of smudges, marks, or creases
• Your resume should be easy to read. Using "bulleted points" is helpful.
• Keep sentences short and concise. Use action verbs.
• Avoid the usage of: I, me, my, and "Resume of."
• Use text formatting utilities like bold, underline, or italic to emphasise relevant sections in the resume.
Possible sections on a resume include:
| | | |
| --- | --- | --- |
| Objective | Summary of Qualifications | Education |
| Education & Training | Work Experience | Other Experience |
| Related Experience | Skills | Computer Skills |
| Additional Information | Awards and Merits | Publications |
References
• Left and right margins should be no smaller than one inch
• Make sure that the document looks balanced and attractive
• Use a conservative, pleasant, and readable font
Highlight your skills and characteristics on the resume and cover letter. Examples:

• Honest Dependable Excellent interpersonal skills
• Team oriented Organised Manage time well
• Work well under pressure Flexible Quick learner
• Leadership skills Enthusiastic Assertive
• Friendly Presentation skills Sincere
• Thorough Tactful

Remember, it takes time to draft a great resume. Good luck!