Country Mosaic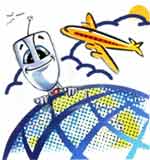 Don't we just envy those lucky guys who get to travel and visit other countries?

Despair not! CareerMosaic India not only provides opportunities through jobs but also prepares you with all info you need to know about that country.
Whether it's a business trip or emigration from India you'll find Country Mosaic very informative.
Get to know more about its geography, weather, language, culture, history and business etiquette (to do's and taboos ). With valuable tips and information, we try and give you a better picture of what to expect from the day you land there, to the time you settle down…comfortably.
Where applicable, we provide valuable tips and mandatory educational requirements to be fulfilled to immigrate to that country.
Happy Landing! (and yes, we will be adding information about lots more places where you can land. So just hover around for a while!)
Click on a country link to find out more. If you have any experiences to share or want to give a feed back write in to feedback@careermosaicindia.com
• Top