• Career Tips
• Resume Tips
• Interview Tips
• Cover Letters
• Resignation
Letters
• Career Abroad
• Do's and Don'ts
• Visa News
• Country Mosaic
• City Mosaic

• Startup Guide

• Indian Talent

• Ask Murali

• Archives - All Areas

Search


Resume Tips
Your Resume - 5 Minutes and 5 Minutes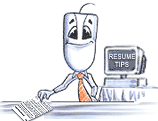 If you spend 5 minutes building a resume, the chance of it being rejected within 5 minutes by the employer is very high. Thus, the time you spend to build OR create your resume is directly proportional to the time the employer would take to reject the resume - T.Muralidharan
You must view your resume more as a marketing tool, where you have to sell your skills to a person who has no clue about who you are. Remember he has to go through thousands of resumes, so what is it that you can do which will catch his attention? To find out how you can make your mark, stay with us. Our panel of in-house experts will guide you at every step of the way. This section will feature articles, opinions and interviews from the top management circle. Not only do we cover general resume concerns, but focus on functions and designation resumes. For instance how to write marketing or a finance resume or how to write a resume of a brand executive or general manager of HR.
The best resumes are those, which can capture and present your strongest skill sets. Our resume builder has been specially designed for this purpose of being able to grab all your skills, including soft skills. I would recommend that you use our resume builder to create your CV because it is specially designed keeping employers and their needs in mind. As a result your CV is created in a way that would appeal to them.
Look out for articles tailored to meet the needs of the Indian professionals working in various industries.