• Career Tips
• Resume Tips
• Interview Tips
• Cover Letters
• Resignation
Letters
• Career Abroad
• Do's and Don'ts
• Visa News
• Country Mosaic
• City Mosaic

• Startup Guide

• Indian Talent

• Ask Murali

• Archives - All Areas

Search


Resume Tips
Is a "Curriculum Vitae" different from a Resume?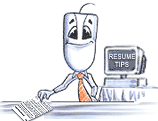 While preparing to write a resume one must have often come across the term "Curriculum Vitae". Just another synonym for resume? Not really. At least not when it comes to the U.S. of A. In America the resume and the C.V (as it is commonly known), are rather different from one another. Well, then what exactly is a "C.V" in the American sense of it? The term "curriculum vitae" translates as something close to "course of life"-- a detailed, lengthy and structured listing of education, publications, projects, awards and work history. Curriculum vitae can sometimes run into ten or more pages. Remember, it is "detailed" information.
Who needs a "C.V."?
A C.V is required for certain positions, most common of them being educators, scientists and other academia related specialists. Job seekers with extensive academic and professional credentials applying for positions in education or research need to possess a C.V. .A CV is appropriate for PhD's, M.Phil's, MFA's, and MA's seeking teaching or research positions. Colleges, universities, and research institutions generally require a CV. It is essential for academic as well as administrative positions in education-related careers. In applying for positions in higher education, the CV generally takes the place of the printed application form. Typically, one is expected to submit a letter of application(detailed), a CV, a writing sample and other supporting documents.
Where is a "C.V" not needed?
Be sure that you give a "C.V" only where it is neccesary to do so. It may work against you if a resume was actually expected. Most employers –private business, government and the like, anyday look for a brief one-page account of your proof-of-worthiness.

What should be included in a "C.V"?
• Name, address(es), phone number(s), e-mail address
• Objective: What postion exactly are you applying for?
• Educational background: Academic preparation - College degrees with details
• Relevant work experience : position-related
• Specific skills: Computer programs, lab techniques, etc.
• Publications/ exhibitions/ performances papers etc. submitted for publication
• Current research interests
• Paper/ posters presented at conferences
• Grants received
• Honours, awards and fellowships
• Professional organisation memberships
• Professional services
• Travel
• Languages known and/or other skills
• Personal interests
• References
What to exclude?
Personal details must be strictly excluded from a C.V. Such as age, sex, marital status, race, ethnic background and religion, personal preferences, biases and political leanings etc.
Condensed version
"C.V" is nothing but a "Condensed Version" of you and your achievments.So it must effectively summarise all of this information.However, unlike a resume your "C.V" can be much longer. The CV generally ranges from two to dozens of pages in length, depending upon factors such as the extent of one's research record or the stage of one's career.
Outside the U.S, resume and C.V are synonymous the world over.So use your discretion and prepare a resume or a C.V accordingly, depending on the position and the location you are applying to.

Happy job-hunting !