Sanmina-SCI Corporation is a US based, publicly traded (NASDAQ:SANM) premier EMS (Electronics Manufacturing Services) Company. Sanmina-SCI, incorporated in 1980, has over 40,000 employees in 22 countries with revenue exceeding US$ 13 billion.

Sanmina-SCI is presently looking for professionals for India Development Centre in Chennai.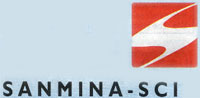 Oracle Applications Technical Consultants
Experience of 3-7 years. Expert level knowledge in customizing Oracle Applications, including strong skills in PL/SQL, Oracle Application Core technology (11.03,11i). Oracle Developer Forms & Reports. Familiar with Oracle Applications APIs. Good knowledge of Oracle Application system administration. Oracle workflow. Application object library and portal.
Oracle Applications Functional Consultants
Experience of 3-5 years. Expert level knowledge in Oracle Application implementation methodologies. Strong functional experience in the following domain areas: Manufacturing, Financials (Accounting background), Distribution, Material and Resource Planning, Supply Chain, HRMS. Exposure to domain testing of any of these areas in Oracle Application is a must.
Database Administrators
Oracle Apps DBA with HP-Unix, Oracle 8i,9i,9iAS,AOL

SQL Server Database

Progress 9.x Database Administrator
Experience of 3-5 years. Expert level knowledge in Database Administration. Strong skills in Database monitoring, trouble shooting, tuning, backup / recovery.
Programmers
SQL, PL/SQL, C++, ASP, JSP, Java, HTML, XML.
Experience of 3-5 years in one or more of the above mentioned areas. Expert level knowledge in system design, coding, integration testing, trouble shooting and technical documentation.
EDI Specialist
Experience of 1-2 years. Expert level knowledge in EDI concepts. Strong skills in EDI standards, translation, data exchange and communication technologies. Good knowledge of Gentran and Oracle ERP.
Finance Manager
Experience of 4-8 years. Expert level knowledge in Finance Management. Experience in financial accounting, fund management, budget, budgetary control, bank transactions, international customer invoicing and developing internal control.